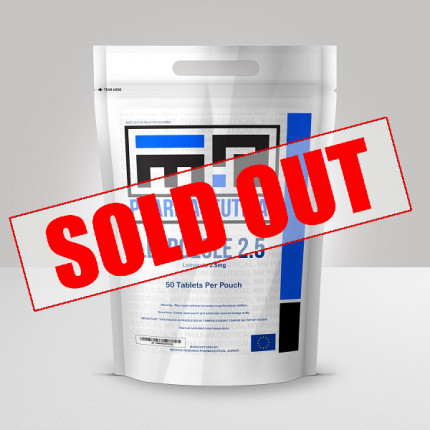 MR-PHARMA Letrozole 2.5mg/tab
---
Product Code:

H-10

Availability:

In Stock
---
50 TABLETS LETROZOLE 2.5MG MR PHARMA
LETROZOLE 2.5 MG TABLETS
There has been a lot of reports on how the male sex hormone plays a vital role in bodybuilding, but not so much about the female sex hormone, which according to scientists, is quite effective as well. The two may not be on the same level, in the sense that testosterone is more effective in most cases, but there is absolutely more to estrogen than what many are used to.
Letrozole (also known as Femara) is an oral non-steroidal aromatase inhibitor. This means it used in the treatment of breast cancer in post-menopausal women and gynecomastia in men. It works by inhibiting the production of estrogen, which is believed to help in the stimulation of breast cancer cells. When the aromatase inhibitor is blocked, it influences the hormone androgen making it produce lesser quantities of the female sex hormone.
Properties associated with this Femara include:
Package: 50 tablets pouch
Common name: Femara, Letrozole
Substance: 2.5 mg/tab
Drug class: Antineoplastic Agents, Antiestrogens, Aromatase Inhibitors
Anabolic rating: not a steroid
Androgenic rating: not a steroid
Chemical name: 4,4'-((1h-1,2,4-triazol-1-yl)methylene)dibenzonitrile
Molecular weight: 285.303 g/mol
Formula: C17H11N5
Manufacturer: Mr Pharma
Half-life: 2 days
Detection time: 10 to 30 days
Note that this medication does not stop the functioning of the ovaries and as such may not be effective in women who are yet to reach their menopause, unlike menopausal women. That notwithstanding, scientific researchers have come up with some brands of aromatase inhibitors that are more likely to inhibit the production of estrogen in the ovaries as a way of preventing cancer.
BENEFITS OF LETROZOLE 2.5 MG
The off-label use of Letrozole was discovered and bodybuilders and athletes are loving it. Bodybuilders who take steroids are bound to experience aromatization and an increased level of estrogen in the body as a result of the interaction between the steroids and the aromatase enzyme.
According to studies, it can be used to balance the balance testosterone level in men and maintain a healthy sperm count. This comes in handy for steroid users who might be suffering from testosterone suppression as a result of their steroid cycles.
This medication prevents the growth of breast tissues in men known as gynecomastia. It also helps in treating the shrinking of the testicles and penis as side effects of taking AAS (Anabolic Androgenic Steroids).
DOSAGES, CYCLE, AND STACKING INFORMATION
Considering these benefits, bodybuilders choose to use Letrozole pills for their post cycle therapy to prevent the side effects of steroids. In most cases, users combine it with other medications to achieve better results. It may be a great PCT agent, but its ability to increase testosterone levels in the body is rated as moderate. To bring about more estrogenic effects, users usually stack it with anabolic steroids.
Bodybuilders who are planning to use Letro 2.5 mg tabs as a preventive measure to the side effects of steroids are advised to take a much more conservative dose compared to persons who intend to use it after the stated side effects must have shown up.
Typically, the dosage starts from 0.25 mg to be taken every two days. It can be increased with time after proper observation and safety confirmation.
Beginners: 0.25 to 0.5 mg every other day
Intermediate: 0.5 to 2.5 mg every other day
Professional: more than 2.5 mg every other day
In most cases, taking as much as 2.5 mg every other day may be too strong for regular use, especially for beginners and probably intermediates. To get the exact dosage that is right for you, be sure to speak to a health expert on the matter.
The application period is 5 days. This can be extended to 14 days if need be.
SIDE EFFECTS
As beneficial as Letrozole may be, it has some unpleasant negative reactions to look out for, especially when taken in large doses. Some of the side effects include:
Hot flushes
Headaches
Abnormal hair loss
Pains in the joints, bones, and muscles
Laxity
Excessive sweating especially at night
Diarrhea
Nausea
Contraindications:
Biliary cirrhosis
Hypercholesterolemia
Hepatic disease
Osteoporosis
Breast-feeding
Pregnancy
Info
Package
50 tablets (2.5 mg/tablet)
Manufacturer
MR Pharmaceutical
Substance
Letrozole
Common name
Letrozole, Femara
Customers who bought this product also bought: